2021 Excel Calendar with Holidays
Here it comes 2021 and we are looking forward for brighter coming year. ExcelSirji presents "2021 Calendar" in Microsoft Excel format with variable Holidays option. So, what it means? It means, just update the "Holidays" sheet in the 2021 calendar and related "Date section" will be highlighted.
This feature really helps to make you flexible and add important milestone of your life that will also be highlighted.
So, how will it work? Follow below to explore the features of 2021 Calendar:
Download the 2021 Calendar by clicking link below:
[tek_button button_text="Download – 2021 Excel Calendar" button_icon_bool="yes" button_link="url:https%3A%2F%2Fwww.excelsirji.com%2Fwp-content%2Fuploads%2F2020%2F12%2F2021-Excel-Calendar-ExcelSirji-1.xlsx|title:2021-Excel-Calendar|target:%20_blank|rel:nofollow" button_position="pull-left" icons="fa fa-download"]
Open the Downloaded file.
There are two views i.e. Monthly View and Yearly View are available in Calendar:
2021 Calendar – Monthly View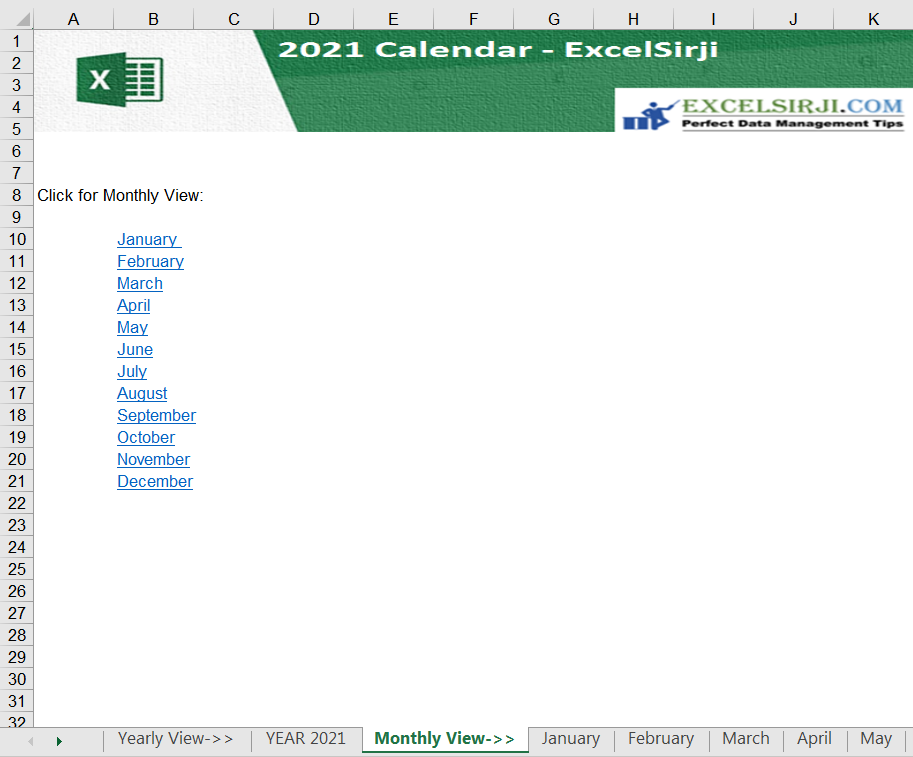 Go to "Holidays" tab and update the listing of holidays as per your requirement: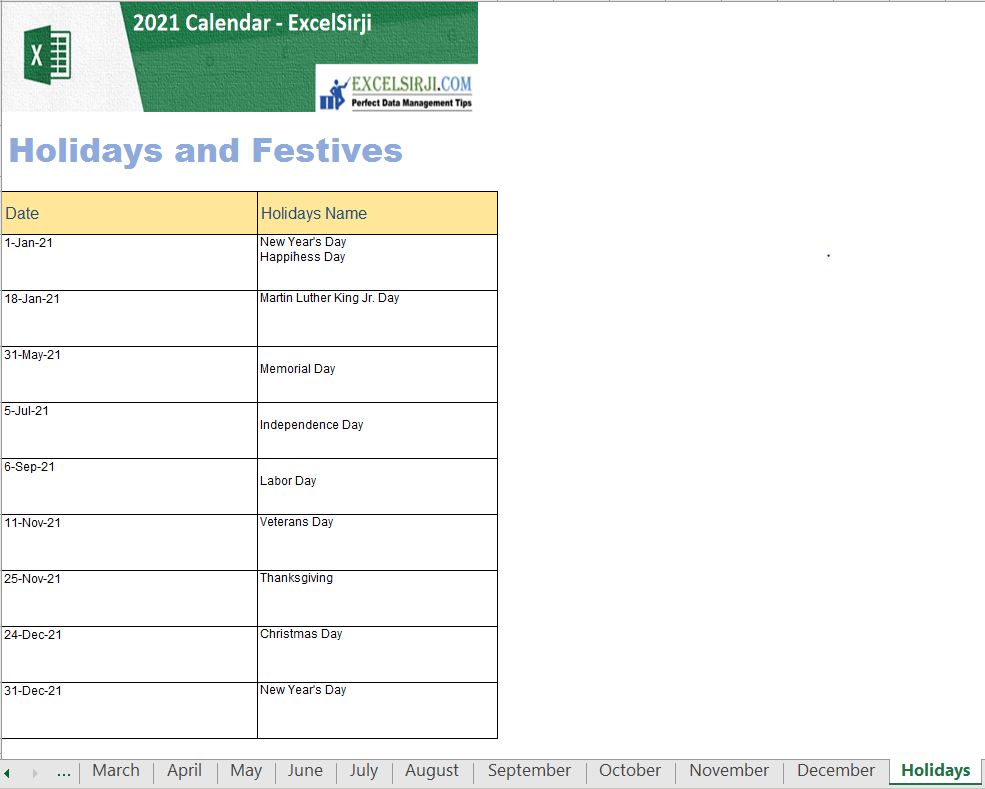 Now go back to related month's tab, you would see that the Holiday dates are highlighted in color. Refer to "January" tab for example: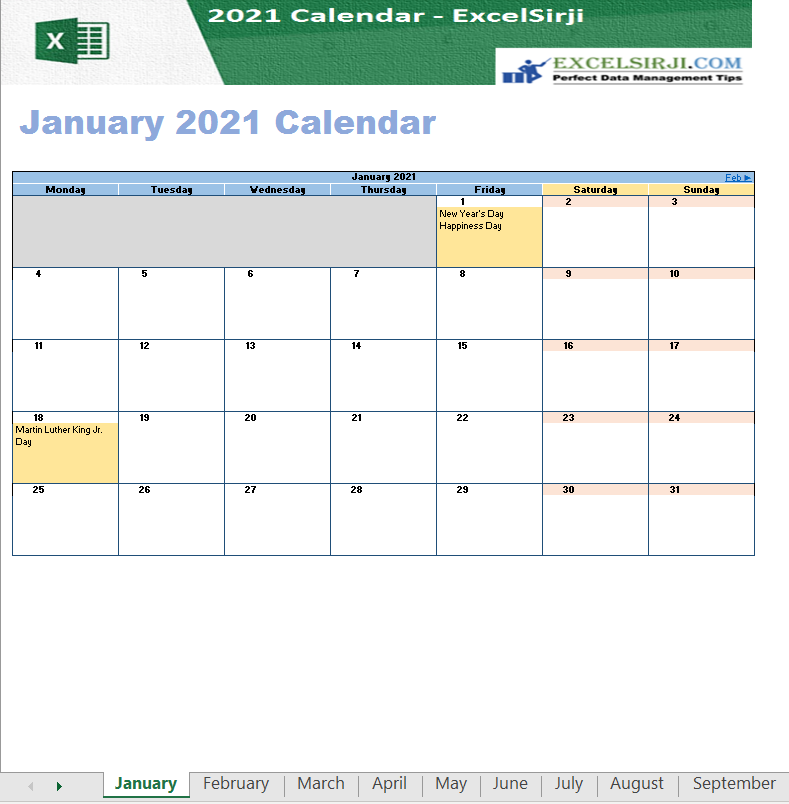 2021 Calendar – Yearly View
Yearly View is also available in the Calendar with tab "YEAR 2021". Holidays will be automatically highlighted as per the dates mentioned in "Holidays" tab.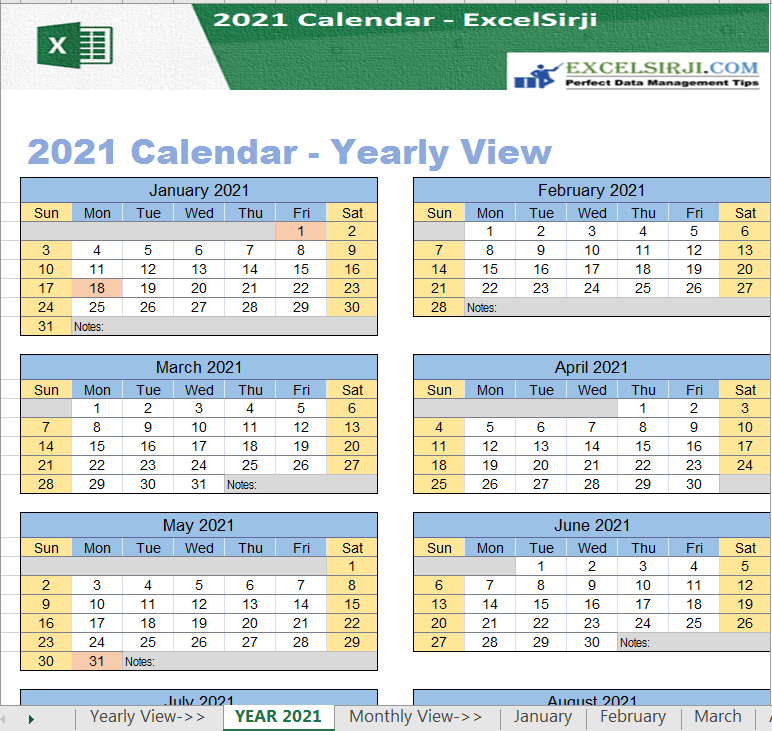 Hope you liked this article !!
Subscribe our blog for new amazing excel tricks.
Click to below for some more interesting tricks and learning: