Pivot Table For Beginners – Part 1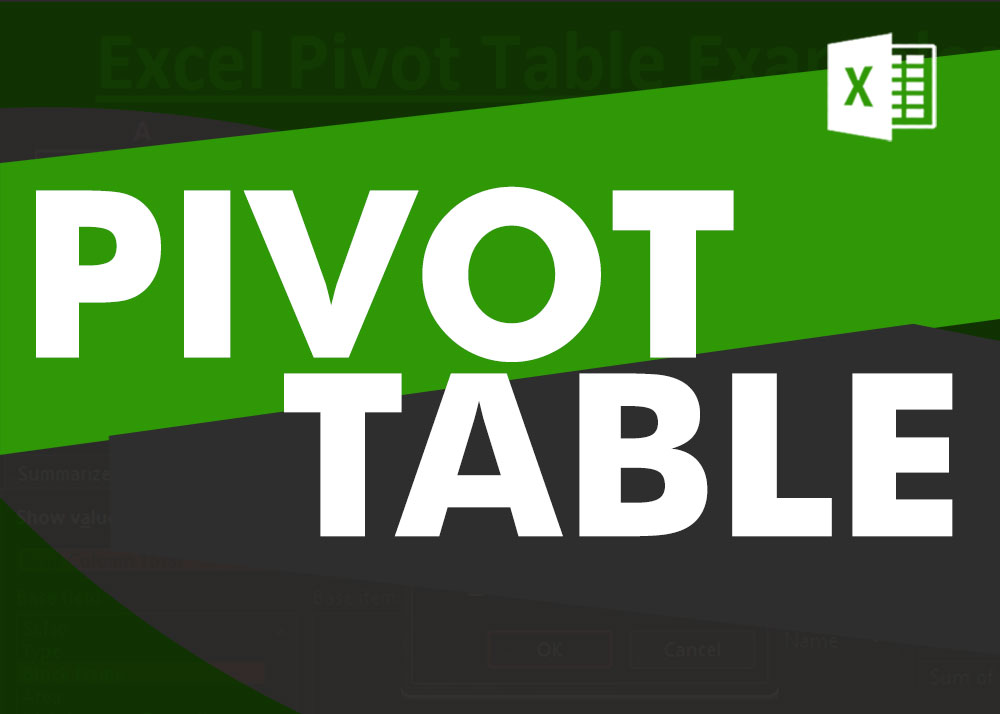 Pivot Tables in excel is backbone of data analysis in excel. If you want to perform various analysis in excel, then I would suggest, learn this amazing excel feature to complete your analysis with in few minutes
Common Queries For Pivot Tables
What is it
Why to use it
How to use it
When and Where to use it? And so on
Its name is enough to make you feel worried however; usage of Pivot Table is relatively simple. You would enjoy while learning Pivot Table with us.
We would take a simple example and detailed steps including the basics of Pivot Table to make you understand better so that, you can use Pivot Table efficiently
We would just brief you with answers asked above:
Pivot Table is very important tool for Microsoft Excel to manage database and make presentation of data
It helps to summarize the large or small data into meaningful information to make crucial management decisions
We have set of procedures that we need to follow to make Pivot Table, here we have complete guide for you
Whenever we required to prepare the summary of large data or to group the data into rows or columns, we can use Pivot Table
Pivot Table can be used in preparing projects for School, summary reports in Offices or Home, for personal as well as commercial use
Let's learn Pivot Table:
Pivot Table helps to summarize the data by grouping data in rows or columns to provide the consolidated results even for large database. This helps to read the data in few seconds and get insight of it
Preparation of PivotTable requires a VALID database and below is the requirement of Database:
Database Requirements
Database should have HEADERS in all the columns
No Columns Headers are BLANK
Complete SELECTION of Database is required for complete Pivot Table
Parameters of Database
Columns: Combination of cells in VERTICAL manner
Rows: Combination of cells in HORIZONTAL manner
Headers: DESCRIPTION of columns
Database: COMPLETE SET of rows and columns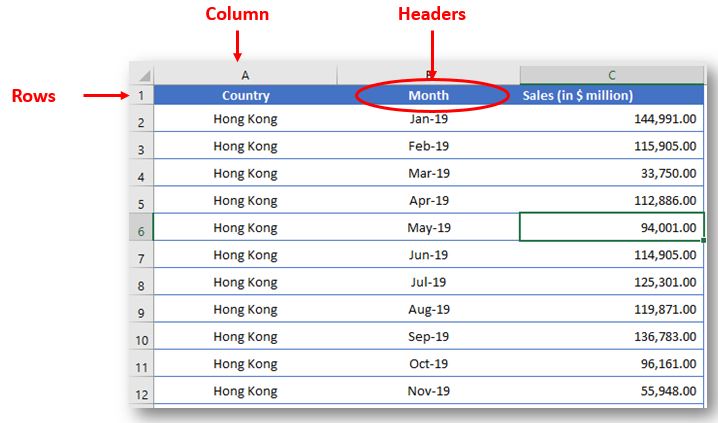 Simple Case Study
Imagine you are the owner of a company and has global presence with branch offices in multiple countries. Company has sales figures for various regions and for different periods. Your boss asks you to summarize the data and answer below questions:
What is the total Sales figure, combining All countries for all Period
What is the total Sales figure, Country wise
What is the total Sales figure per Country wise and per Period
You can answer these questions in few seconds by creating pivot tables.
Let's create the pivot table:
Select the database which you want to summarize. You may go to first cell of the data i.e. Cell "A1" in below displayed data and then press "Ctrl + Right + Down" to select the database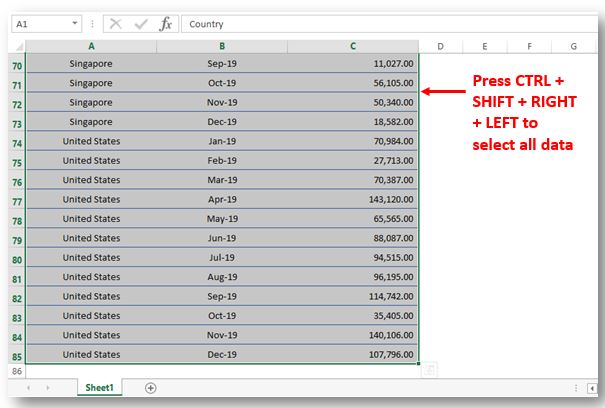 Then Select Insert from Menu Bar and click on Pivot Table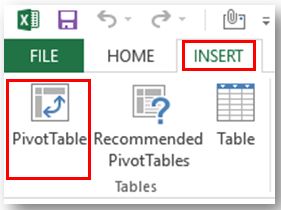 Below window will pop out and choose the parameters as shown below and click OK: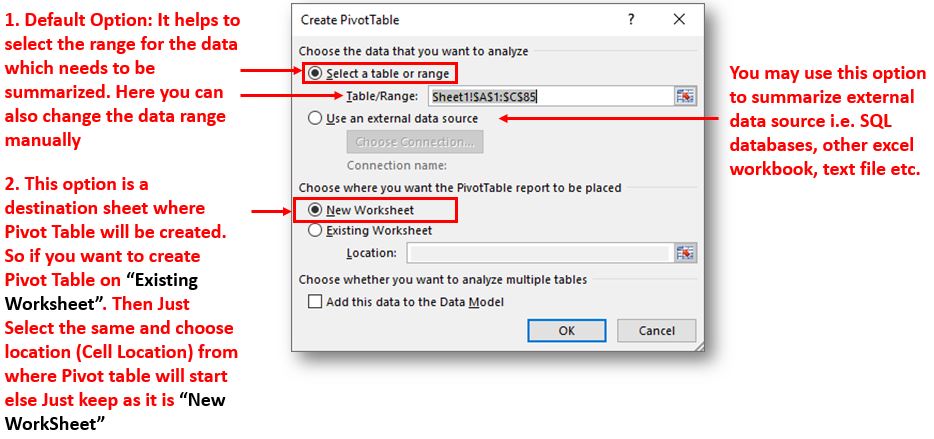 Most important feature of the Pivot Table: Below screen will appear once you click OK as mentioned above. This is where you will be summarizing your data with few clicks.

This plays an important role in analyzing the database and prepare the Pivot Table report which can be presented further

You may use this feature to convert your data into meaningful information.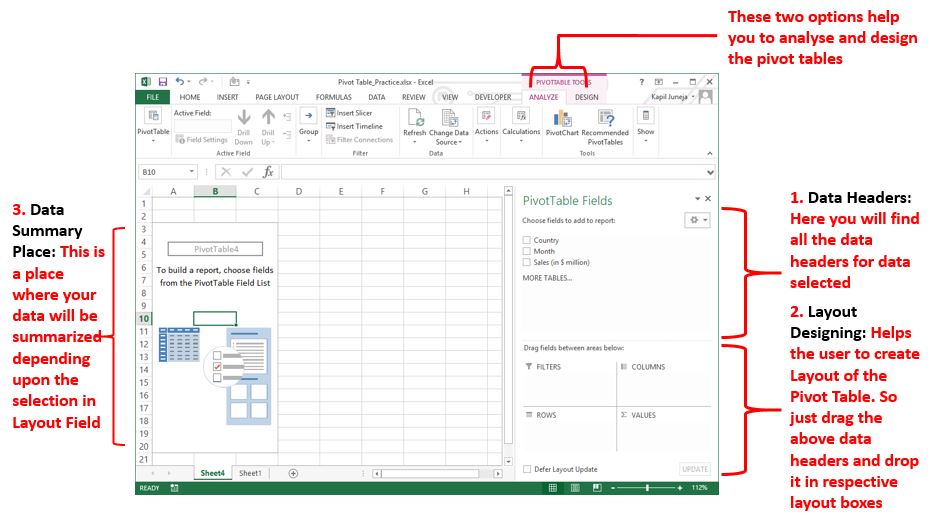 Let's answer the questions asked with the help of Pivot Tables:
Total Sales figure Period wise on consolidated level:

Note: If you want to show multiple data summary in Values column. Simply drag the headers i.e. if you have Profit figures along with Sales figures, so just drag both the headers in values field and your data will show the values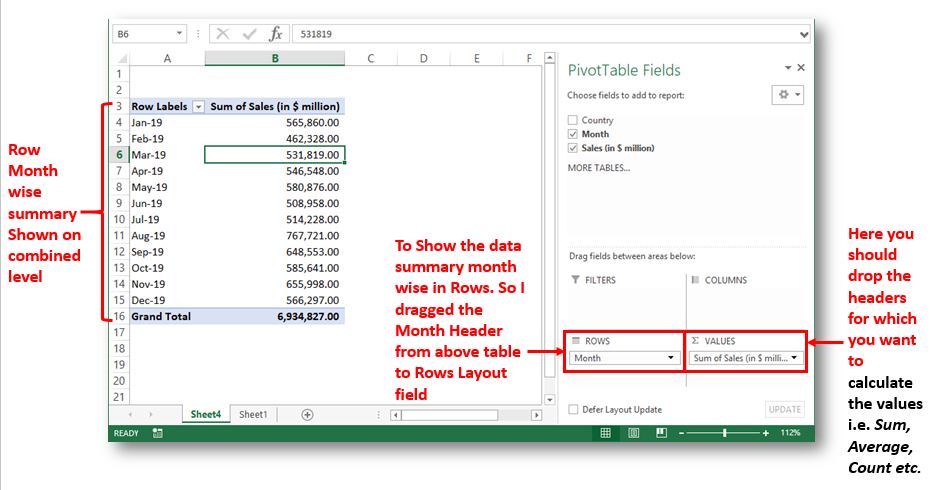 What is the total Sales figure, Country wise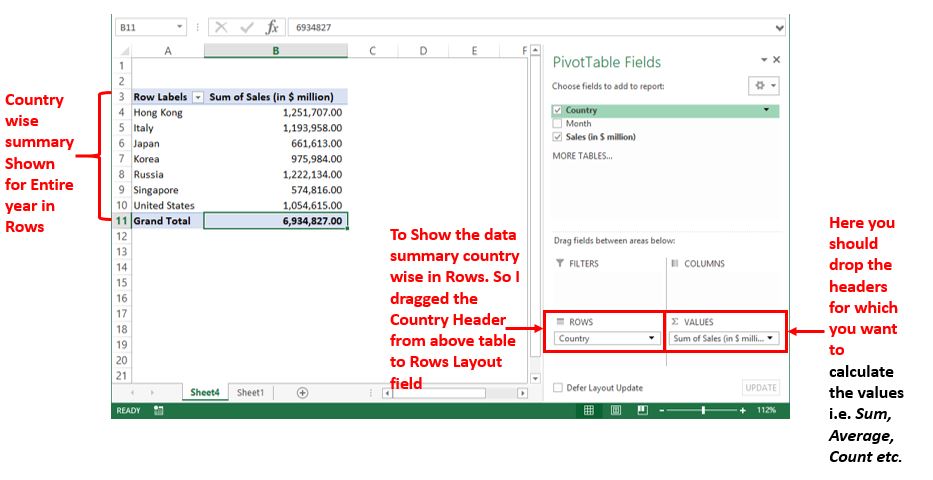 Total Sales figure Country wise for each Period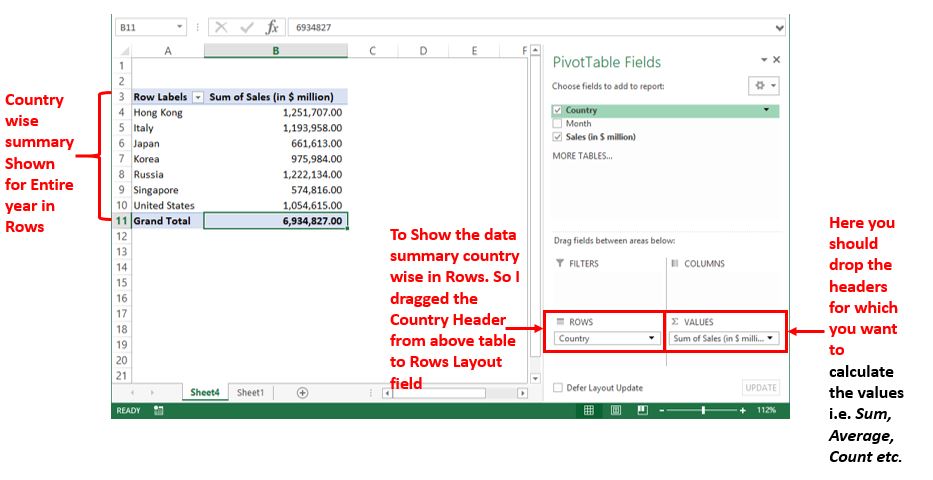 Hope this article helped you to create your first pivot table. You may download the practice sheet from below icon. Please comment if you have any questions or facing any challenge.
Are you enjoying learning excel with us? Subscribe Now for more updates